Overview
The currency of the magical world consists of coins made of different metals, each one having different worth. All of the magical world uses the same currency.
Appearance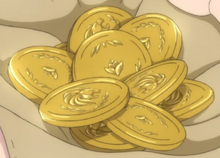 All coins have a print of a roaring lion on the front of the coin and a print of a small flower that looks similar to a bamboo shoot on the back of the coin. On the circumference of the front of the coin, there is a print of a Laurel that is under the lion, and on the circumference of the back of the coin, two laurels adorn the circumference. The laurels are polar, and one of them is above the flower while the other is under the flower. The color of the coins match the color of the metal, as seen when Touya is converting to yen. Copper coins are brownish. Silver coins are silver, gold coins are golden, and platinum coins are a metallic light gray.
Worth
| Coin Metal | Worth |
| --- | --- |
| Copper Coin | N/A - Basic unit (千円、¥1,000) |
| Silver Coin | = 10 copper coins (一万円、¥10,000) |
| Gold Coin | = 10 silver coins = 100 copper coins (10万円、¥100,000) |
| Platinum Coin | = 10 gold coins = 100 silver coins = 1,000 copper coins (100万円、¥1,000,000) |
Ad blocker interference detected!
Wikia is a free-to-use site that makes money from advertising. We have a modified experience for viewers using ad blockers

Wikia is not accessible if you've made further modifications. Remove the custom ad blocker rule(s) and the page will load as expected.